I always maintain that in order to catch fish, you have to go to where they are.
With that in mind we took a trip to Alaska in 2010.
All the credit for this trip goes to my wife, Maureen, as she found that there was an online auction to RapidsCamp Lodge, on the NekNak river in Alaska. So, Wayne (the big guy in the video), and I made the fly in trip. The trip was an "all inclusive", and even had an open bar at the end of the day.
We were flown into different locations each day with a guide being provided for every two guests.
We also shared the rivers with the grizzly bears, who luckily for us were more interested in the salmon than us. Wayne had bought a bear horn in Canada, but that was confiscated before we even got on the plane in London, Ontario!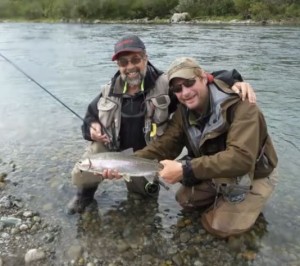 Our guides did not carry any firearms, but assured us that if we made a lot of noise in bear proximity they would not bother us. On one small river this turned out NOT to be the case; the grizzly broke through the bush on the opposite bank of the river. The river was only about 30 feet wide. He started to stare us down, then menacingly moved forward with his head low; boy did we scream and holler, but he still kept coming. Our guide then quickly hurled a rock at the bear. What a pitch……hit him square on the nose with a resounding thud, and he turned and skidaddled.
There is an underwater shot in the Geographic Harbour segment that shows the prolific shoals of bait fish. I must also warn you that in this segment the guides used gaff hooks. (Not my favorite segment). We only kept those fish that we brought home. The rest were released.
Here is a composite video that I made with my compact camera. Sometimes a little shaky and sometimes blurry…again this was just a hand held camera
Be prepared, the video is 35 mins long, so grab a beer and sit back.
[ Alaska Fishing at RapidsCamp Lodge]
Happy Mother's Day to all.
David