In Celebration of
Bruce Roney
July 18, 1938 – October 25, 2017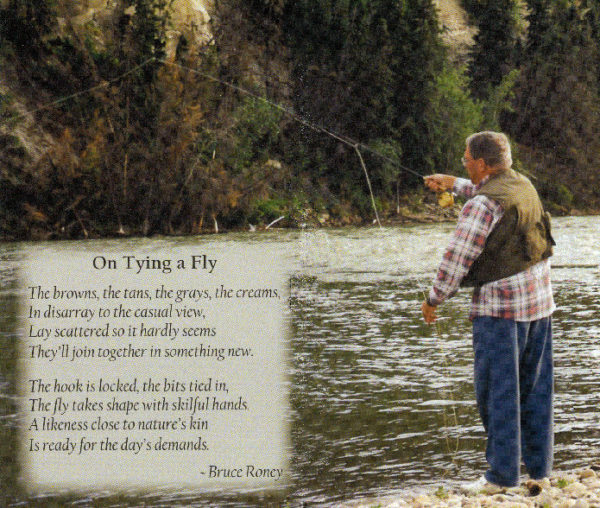 It is with great sadness the family announces the passing of Bruce at Trillium Health Partners, Mississauga Site on Wednesday, October 25, 2017 in his 80th year. Beloved husband of Sharon for 50 years. Loving father of John (Louise Manny), and Elisa Ward. Cherished Grandpa of Mia Roney. Dear brother of Beverley Reinecke (Herb) and brother-in-law of Denise Glover (Patrick). Adored uncle of Kristel Chalmers (Todd), and Edward Glover.
Bruce will be lovingly remembered by his extended family and friends.
Bruce was an avid HAM, fly fisherman, hobbyist, and long-time reader of talking books for the CNIB library.
He retired as principal after 38 years with the York Board of Education. 
If desired, donations to Parkinson Canada would be appreciated
Visitation
Turner & Porter – Peel Chapel
2180 Hurontario, Mississauga, ON, L5B 1M8
Saturday, 4 Nov 2017 1:00 PM – 4:00 PM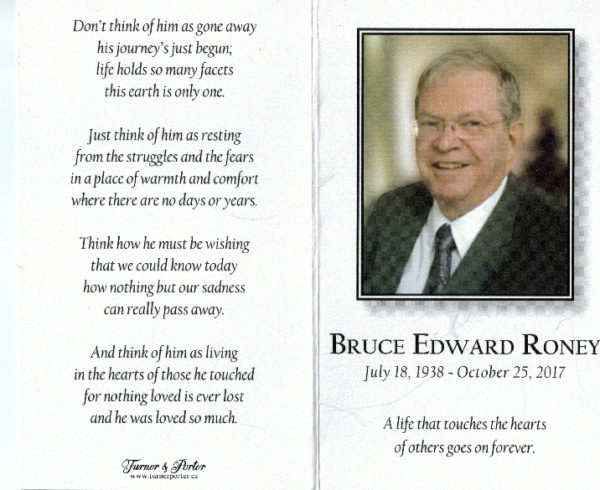 ……………………………………………………………………………………………………
Hi folks,
I used to have Bruce help me out with corporate events and fly fishing schools when I ran the programmes at Wilson's Fly Shop.
As an instructor, and a communicator, he was wonderfully low key, and succinct. As with most things , less is more, and when new casters saw Bruce's effortless loops they would readily pay attention to this guy that obviously could make it happen the right way so consistently.
I regret having lost touch with him in recent years. Thanks Bruce. Best.
Eli Garrett
……………………………………………………………………………………………………..
Sorry to learn of his passing.  Thank you for notifying me.  My regards to his family and friends.
Jan Cutaiar Shenk
………………………………………………………………………………………………………
Bruce:
A splendid individual, who shared our love for the sport and was involved as member of the executive several years ago.
Bruce loved to teach, as was his profession. He was a Certified Casting Instructor and was a patient, effective coach in our sport..
A fine gentleman who will be sorely missed!
Bill Christmas