19th August 2013.
As two of the three "Sunshine Boys", Chris and I ventured up to the Saugeen River. We had been given the title as we always seemed to hit great weather, despite the weatherman's predictions.
Initially we had planned fish below the dam in Hanover. There was a ministry sign:
"FISH SANCTUARY. NO FISHING WITHIN 300 METERS BELOW THE DAM."
So, being proud of our conservation efforts, and not wishing to have my car impounded, we waded downstream a goodly distance away from the dam. It was then that we were passed by three canoeists, one fishing using spinning gear.
Shortly after we heard a commotion from across the river, and a fellow yelled at us admonishing us for being too close to the dam.  Once again we waded even further down stream. By this time we both felt very uneasy, and this was compounded by another Ministry sign which just simply said:
"FISHING SANCTUARY. NO FISHING"
  – this time without any qualifying statements about the dam.
Both Chris and I decided that we should go elsewhere.
However, being a guy who likes to know the score, I decided that we should have a word with the fellow that yelled to us.
We approached him and introduced ourselves; he became friendly after we began telling him that we were there to do some fly fishing and did not want to incur any ire.
He went on to explain that he was the owner of the properties on BOTH sides of the river, and also the owner of the dam.
He explained that the canoeists were allowed access to the river as a gesture of goodwill via a maintenance ramp.
The property owners also on this stretch of the river also wanted to maintain their rights of privacy. We respect that. He also talked about the unruly behaviors by others that he had to endure in the past.
We left enlightened, but still wonder about a couple of things:
Why did the Ministry sign at the dam level have a qualifying distance, but the sign, about half a mile further downstream have no qualifying limitations? Surely it would make sense to have that Dam sign say simply NO FISHING ANYWHERE ALONG THIS SECTION OF THE RIVER. FISH SANCTUARY.

(I should add that we carry business cards that identify us as fly fishermen, with a consciousness of our environment, and we always endeavor to get landowners permissions wherever we fish).

Why are the canoeists not subject to the same regs?
Now for more entertaining news…..
We now had to go to plan B; so we went to a more hospitable part of the river. Here's a shot of Chris getting his line ready:
And here's a shot of a great undercut on the far bank, where the river also bends to the left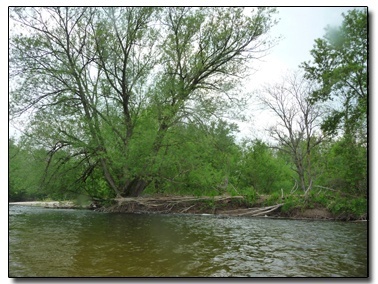 Ten minutes later I landed this beautiful Brown.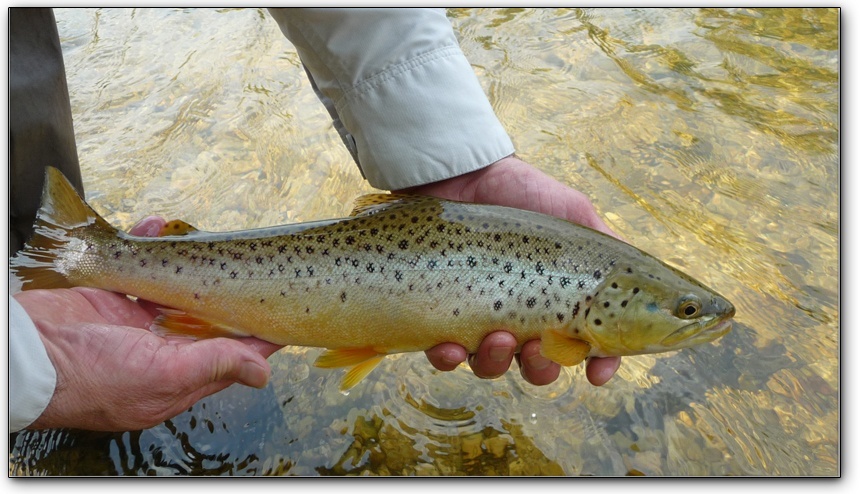 Also make note of the blue spot on the gill plate that is pathognomonic of a naturally wild specimen.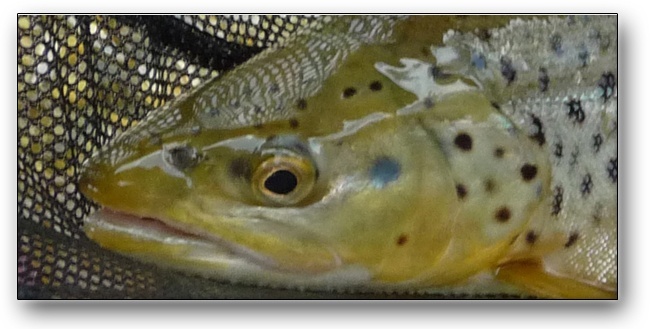 We each caught another smaller brown each then waded further downstream.
That's when we lost our title as "The Sunshine Boys". Chris had forged ahead, as usual, being the "keener".
The heavens opened and the thunder boomers rang. We were soaked to the skin, and we had broken another cardinal rule of staying within earshot of each other.
Not only that, we were unable to get to the path on one side of the river due to the water surge; so we had to fight our way through the dense, very wet, brush on our own. It took about 45 minutes to get back to the car. We were the wet carp in the carppark! I donned a dry sweater and Chris found a pair of dry sweat pants. So were eventually "half soaked".
We had a soggy meal at the local watering hole; I wiped my dining room seat dry before we left, and then put my soggy ass on my car seat for a soggy ride for 90 minutes to home; and as for Chris's new, now wet, cellphone….that's an ongoing saga.
…………………Just another eventful days fishing for the FlyGuys