It is not always about the fishing….sometimes it's about the people you meet, and the networks that you create.
I was reminded about this last Saturday, when I visited John's Fly Materials shop in London, Ontario. John Ritchie is now a venerable 79 years young.
I had met John a couple of seasons ago.  I needed to restock some fly tying materials; so I drove into London and visited John at his home.
At the time he was guiding his wife through a terminal illness; he had all his inventory in masses of boxes, containers, and shelves. He knew where every fly fishing item could be found in his home; and he was a fountain of knowledge. He regaled me with his past exploits, both on and off the river.
Sadly his wife passed away; so what has John accomplished since then?
He has now opened up a retail store for everyone to visit!
Do not expect a massive display of advertisements; instead get ready to meet one of the finest gentlemen on the fly fishing circuit. Also do not expect to be cashed out quickly. Instead enjoy his heartwarming camaraderie as he sifts through his reams of typed inventory. He hand types his invoices, and will add them up on his calculator.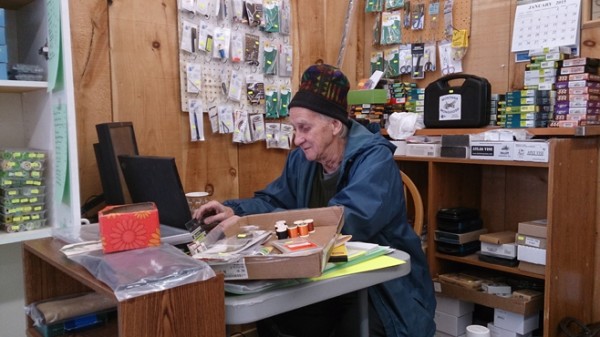 You can visit John's store at:
Unit C,
96, Rectory Rd
London, Ontario
You can also see his inventory lists on the web at www.johnsflymaterials.com, or give him a call at 519 645 0932.  He posts his hours as:  TUES to SAT, NOON TO 6 PM     (except days when he goes fishing!)