Nick's Streamer Patterns
Nick tied a Sculpin, and a Sid Fly Variant at the Grand River Outfitting and Fishing Store on the 6th April 2018.
……………………………………………………………………………………………….
Prior to his demo, Rob Heal (the co-owner of the store) outlined his thoughts on seasonal steel head river migrations. He feels that steel head respond to a lure presentation, much as the atlantic salmon with aggressive motivation rather than feeding. They migrate into the rivers when flows are high, however they become more dormant with the advent of colder climate. They really only start to feed again when the weather warms and food becomes available.
Rob notes that the quiescent fish develop their winter colors after entering the rivers, becoming darker and developing their lateral and cheek colors as they prepare for reproduction.
Steel head then revert to their silvery colors after kelting, and also heal their worn fins as they feed and prepare to return to their lake habitats.
……………………………………………………………………………………………….
Nick has become well known for his guiding and fly tying skills; he has particular strengths in fishing streamer patterns. Here are just two of them:
Sculpin: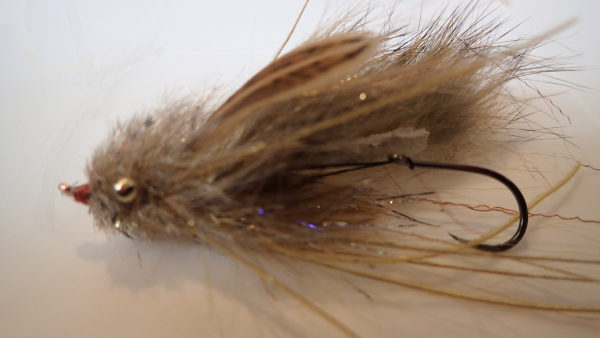 Construct a jointed streamer using wire or strong mono line:
(Nick uses 5 stranded Beadalon bought from Michaels Craft Store):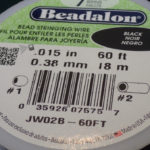 Tie in a 4 beaded length of chain behind the shank eye using figure 8 wraps: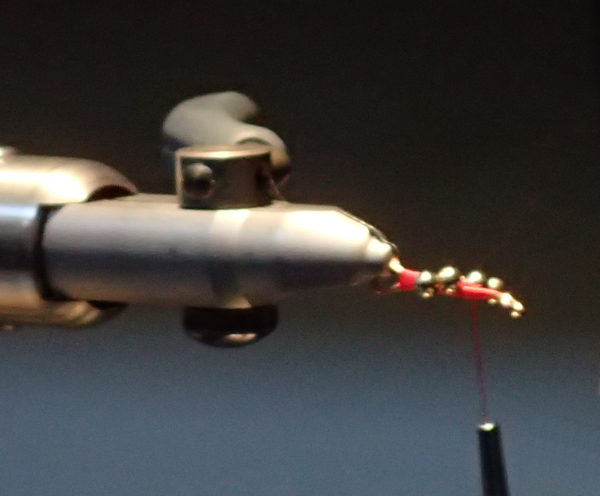 Tie in a strip of rabbit fur attached forward of the bend in the stinger hook. Then tie in collars of stripped Ostrich herl, and Craft fur then Polar chenille, and then tie in lateral pectoral fins of hen saddle feathers, behind the eye beads: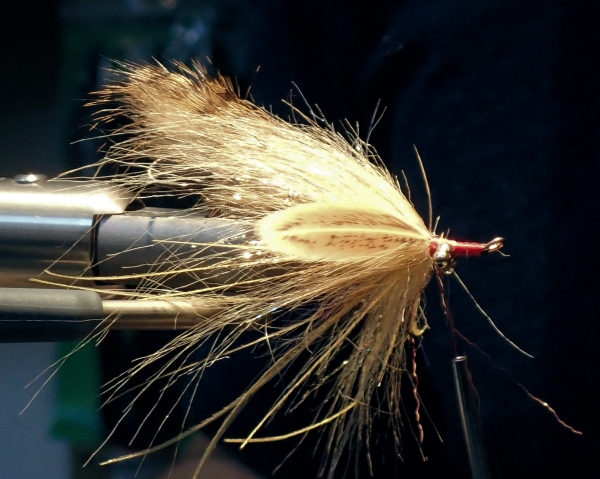 Nick then added wraps of E.P (Enrico Puglisi) fibres with ripple ice in a wire brush, starting behind, then progressing forward of the eye beads: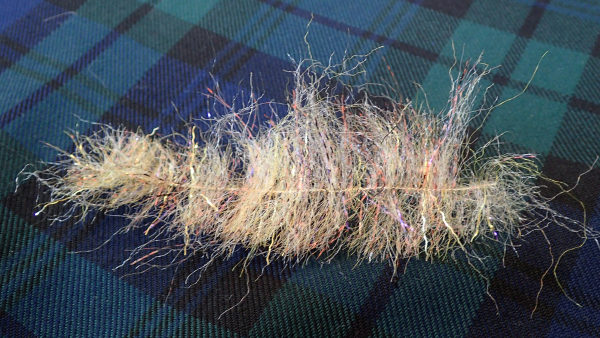 A touch of head cement and whip finish completed the fly.
……………………………………………………………………………………………….
Sid Variant Streamer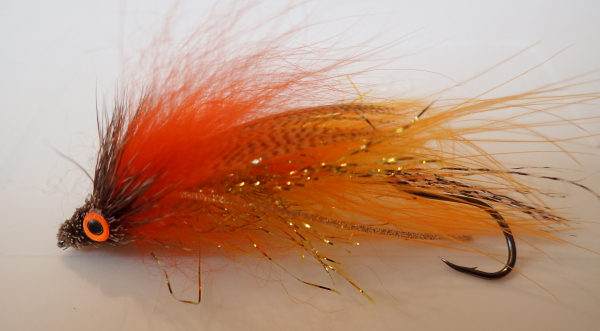 For the base construct, Nick uses two stinger hooks tied together in a similar fashion as the sculpin pattern, and he removes the hook from the forward stinger at the end of the tie.
To begin, the forward hook is bent about 10 degrees: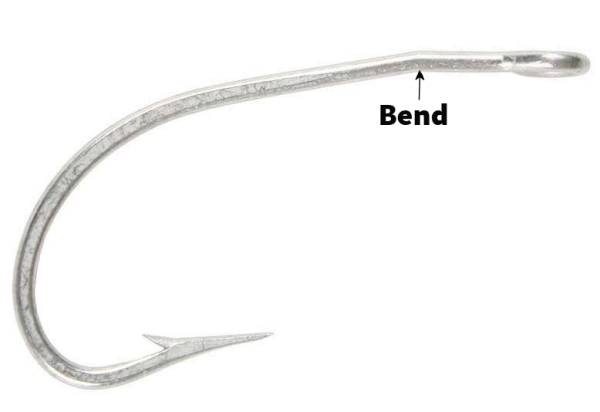 All materials are tied on the front hook, beginning with a tail of Sanyo predator wrap and orange Blood Quill Marabou, tied in just forward of the shaft above the hook barb: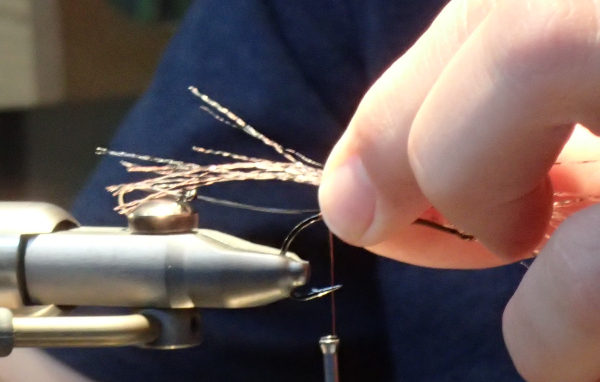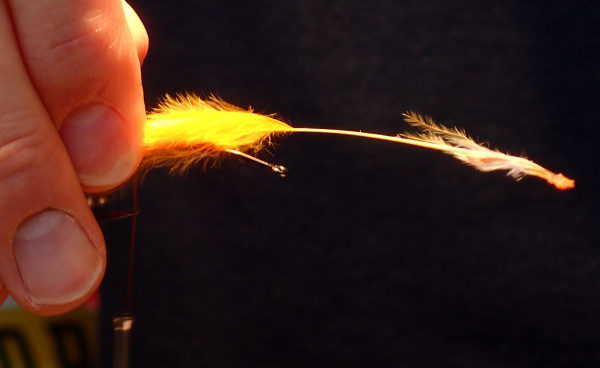 Forward of this are added several wraps of Hairline Polar Reflector Flash (Yellow) to provide body bulk to the fly: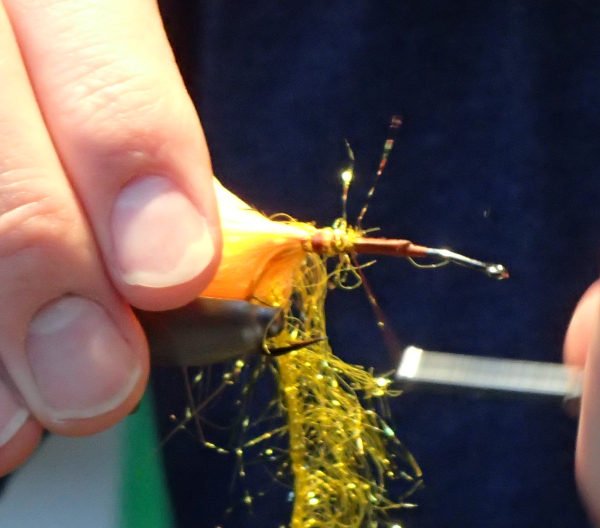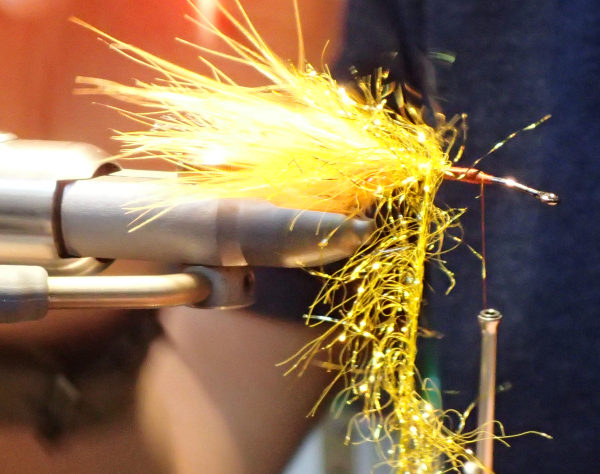 Tie in a barred mallard flank feather on top of the chenille (Be sure that you leave enough room in front of the feather tie in point to allow for the next step):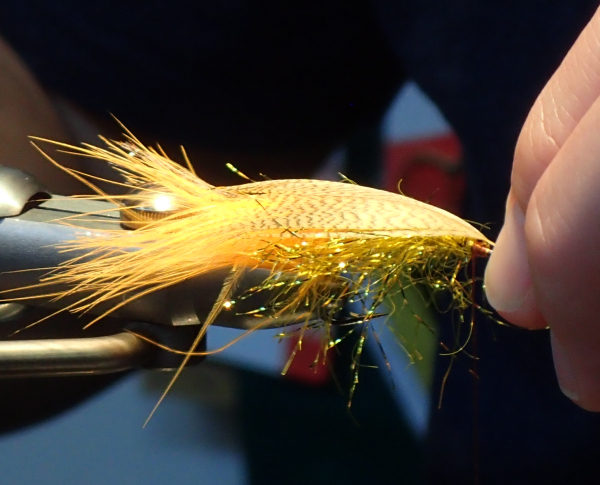 Reverse tie in a clump of hot orange fox fur: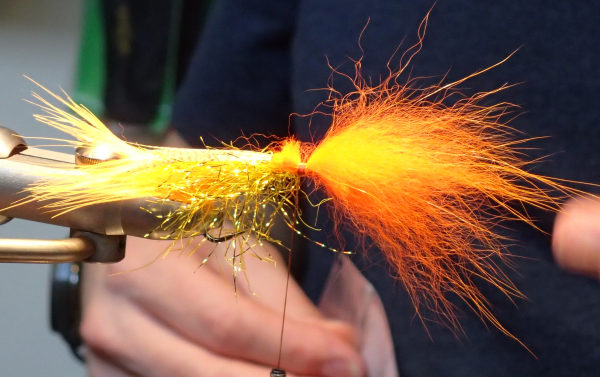 Then tie in a pair of gold Silli legs: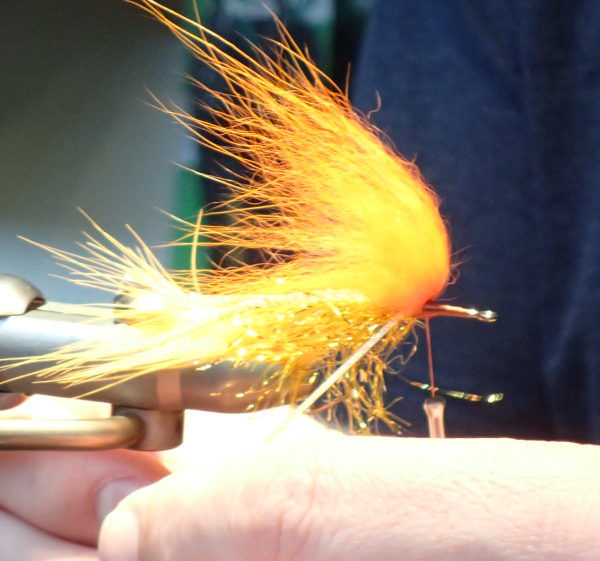 Do NOT tie in the fox fur with over wraps of thread:
Instead build up a thread dam in front of the fox fur, creating a ramp to which you can tie in the head of deer hair that is fabricated and trimmed as shown in Nick's short video:
Finish off the fly by gluing on a pair of eyes and using UV cement to solidify the head shape: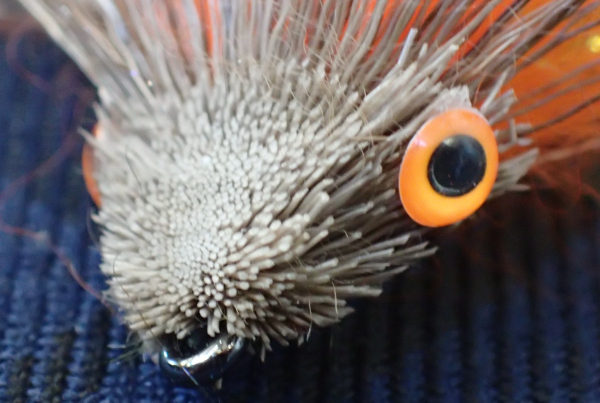 Now Go Get 'Em!
Thanks to Nick Groves and the staff at the Grand River Outfitting and Fly Shop.
david williams
6th April 2018