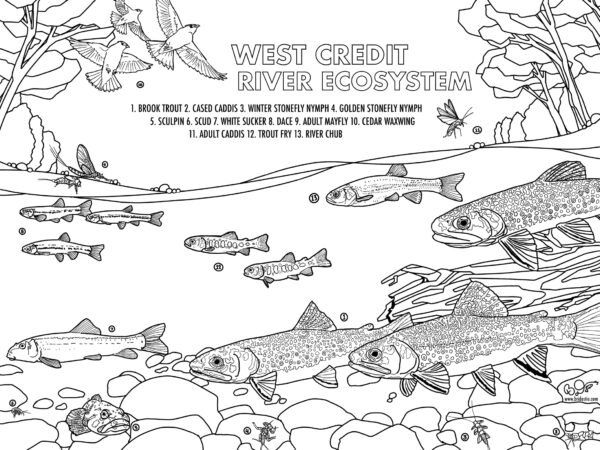 To help bring awareness to this aquatic ecosystem the Coalition for the West Credit River is holding a colouring contest for children and adults.
Enter the contest for a chance to win a prize!!
Some quick facts about West Credit River Brook Trout:
Brook Trout are a sentinel species that signal cool pristine waters and wild and healthy natural spaces.
West Credit River has one of the last remaining self-sustaining native Brook Trout populations in Southern Ontario.

Cold water bubbles up into the West Credit from underground springs.

The West Credit River joins the Credit River and then flows into Lake Ontario.

Brook Trout are very colorful, with an orange-red belly, scattered turquoise spots that have a red dot in the center. The remainder of their body is a variety of brown colours.
So, get out those colored pencils and have some fun applying your artistic touches to this page:
There are prizes for best submissions by children and adults..
Colouring Directions:
Materials: Colouring sheet, pencil crayons, markers (Pencils will work best).

Download the full-sized Colouring Sheet image from here.

Print the page (Make sure you print in landscape and use the "Fit to Printable area" option).

Learn about the colours and markings on Brook Trout and start colouring.

Have fun and learn about the Brook Trout at the same time.

Once you are ready to email your creation and enter the contest, just scan or take a photo of the finished art and send it to the Coalition for the West Credit River at this email address. Please be sure to let us know the name and age of the artist. Among the many prizes, you will have a chance to win one of the following:
Have fun and help Brook Trout at the same time.
Thanks to Bri Dostie for the artwork.